September 18, 2018
It is with great sorrow that we say goodbye to Maria Janina Oszadszky (nee Kras). After a struggle with cancer, Maria died peacefully in her Vancouver home on September 8th at the age of 76. Maria is survived by her children, Ilona and Peter; and two grandchildren. She is preceded in death by her husband, Dr. Sandor Oszadszky.

Maria was born on January 28, 1942 in Cracow, Poland to Jan and Maria Kras. She graduated from the Medical State School of Nursing in Cracow, Poland in 1963. Maria then attended Jagiellonian University in Cracow as a student in Psychology before immigrating to Canada when she was just 21. She was licensed to practice as a Registered Nurse in the Province of Quebec in 1968 and worked at St. Mary's Hospital in Montreal. It was there that Maria met Dr. Sandor Oszadszky. They married in 1970 before moving to Rossland, BC. In Rossland, Maria developed a passion for gardening. Her beautiful gardens are a reflection of Maria's ever blooming spirit, creativity, and unique soul. Her gardens inspired her poetry, writings and photography. She immersed herself in arts and culture, regularly attending the theatre, exhibitions, and classical music performances. She approached life with genuine curiosity and a love of learning, exploring nature and attending countless lectures and courses. Maria's spirit and passion for life will always be remembered and sorely missed.

A Mass of Christian Burial will be held on Friday, September 21st at 11:00 am at Sacred Heart Catholic Parish in Rossland with Father Jim Ratcliffe, Celebrant. Brent Long of Alternatives Funeral and Cremation Services has been entrusted with arrangements. All are welcome to attend and celebrate Maria's life.

You are invited to leave a personal message of condolence at the family's online register at www.myalternatives.ca.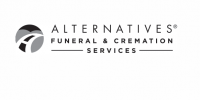 Alternatives Funeral & Cremation Services
Service Details
Celebration of Life
Friday, September 21, 2018
11:00 AM
Sacred Heart Catholic Parish, Columbia Ave, Rossland