Michael Sather was on a trip to Hawaii when he realized something was really wrong.
An avid birder, the former MLA for Maple Ridge-Pitt Meadows, was on the big island of Kailua-Kona searching for nightjars, cuckoos, nenes, and other unique fowl, but he couldn't remember the names.
When he returned to the resort he was staying at with his wife, Annette LeBox, he told her what had happened, and then the former mental health therapist made a startling self-diagnosis.
"I think I have the beginnings of dementia," he told her that day, about six years ago.
"We both cried," said LeBox, because they both already knew what the journey was going to be like.
The 75-year-old would eventually be diagnosed with aphasia, a disease that affects a person's ability to remember words and communicate with others.
According to the American organization National Aphasia Association, it's an impairment of language, affecting the production or comprehension of speech and the ability to read or write. Aphasia, the association says, is always due to injury to the brain, most commonly from a stroke, particularly in older individuals, but can also arise from head trauma, brain tumours, or infections.
Sather remembers two events in his life which he believes were the cause of his diagnosis – as there is no history of dementia in his family.
In 1975, he survived an attack by a grizzly bear during which a sow, defending her two cubs, swatted his head, permanently scarring him with her claws.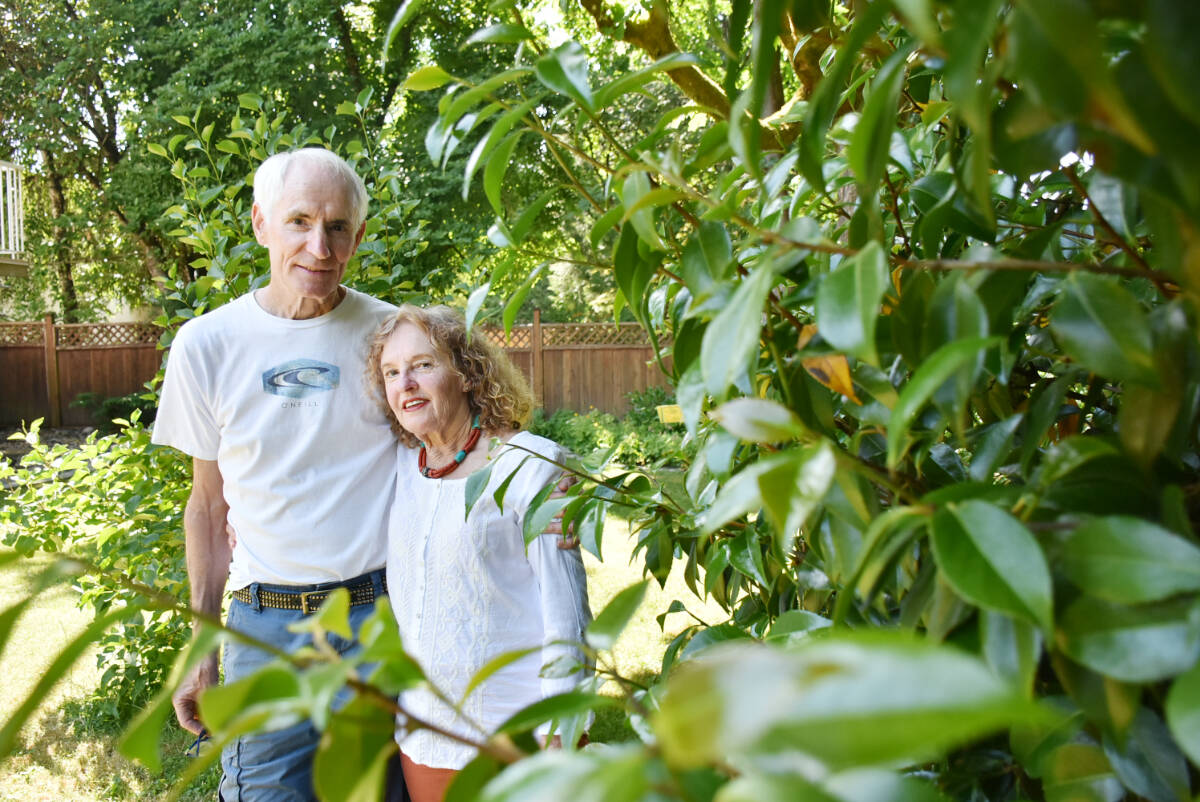 Preceding the bear attack, he was a passenger in a car that crashed and fell to the ground unconscious after exiting the vehicle. He would end up in intensive care.
Last year, the family of iconic actor Bruce Willis, known for his role as John McClane in the blockbuster Die Hard films, Korben Dallas in The Fifth Element, and as Butch Coolidge in Pulp Fiction, announced he would be retiring from acting because he has aphasia.
LeBox admitted before the trip to Hawaii she had noticed that her husband was using word fillers when he was struggling to find a word. He would say things like, "and so on and so forth," when he couldn't finish his thoughts.
And so she was happy when Willis' family opened up about his condition because not only did it raise awareness about the disorder, but she was also made aware of a program through the University of Boston called Constant Therapy, which gives people with aphasia exercises with word finding.
They have also discovered the Maple Ridge BC Purple Angel Dementia Support group, founded by Myrna Norman – a group that offers support for those with dementia and their caregivers. A group, noted LeBox, that has helped them a lot because it made them realize they are not the only people on this very difficult journey.
The other day, said LeBox, they talked about fathers and Norman went around the group asking participants to talk about their fathers. Just conversational starters, said LeBox, but it gets everyone talking. And sometimes Norman also plays little word games with the group.
"And Myrna is so inspiring. She is always talking about joy," added LeBox.
Since his diagnosis, LeBox said there have been some scares. On a trip to Palm Springs, he left the resort he was staying at one morning for a walk and didn't return until about eight hours later. Turns out he hiked to the top of Murray Peak and back. In the meantime, LeBox called the police and ended up with a search party made up of 15 police cars, one search-and-rescue helicopter, and two "massive" police drones.
Another time, he disappeared along the dike trail behind the Maple Ridge Equi-Sports Centre while taking photographs. He returned home about three hours later.
LeBox attends a writer's group every Friday morning for three hours and on the way home she will find herself stressing about where her husband might be. Will he be at home? Will he be out walking?
Now she tries not to stress too much about it and trusts that he will find his way home.
"I can't change his behaviour, but maybe I can change mine," she said.
"Michael loves to walk, to run, to be in the outdoors. I don't want to keep him home," explained LeBox. "I have to learn how to, at least at this point, not to worry so much about him."
LeBox believes her husband's fitness routines have slowed the progression of the disease. He is a runner, she said, and they both lift weights and attend spin classes together.
They also meditate for about 25 minutes, six nights out of seven, a routine that is capped off with a cup of tea and a "goodie".
Sather said he was relieved when he was finally diagnosed – even though it still came as a shock.
Because I didn't realize…I just didn't know that this was coming on quite as much as it was," he said.
"It's generally OK, but it's certainly not always OK," he said about the way he is currently feeling.
Recently MLA Nicholas Simons for Powell River-Sunshine Coast, a former colleague of Sather, gave a two minute speech in the B.C. legislature about his friend's diagnosis, advocating for donations to Purple Angel, the Alzheimer Society of B.C., and Canadians for Leading Edge Alzheimer's Research, or CLEAR – to which all donations are tax deductible, he explained.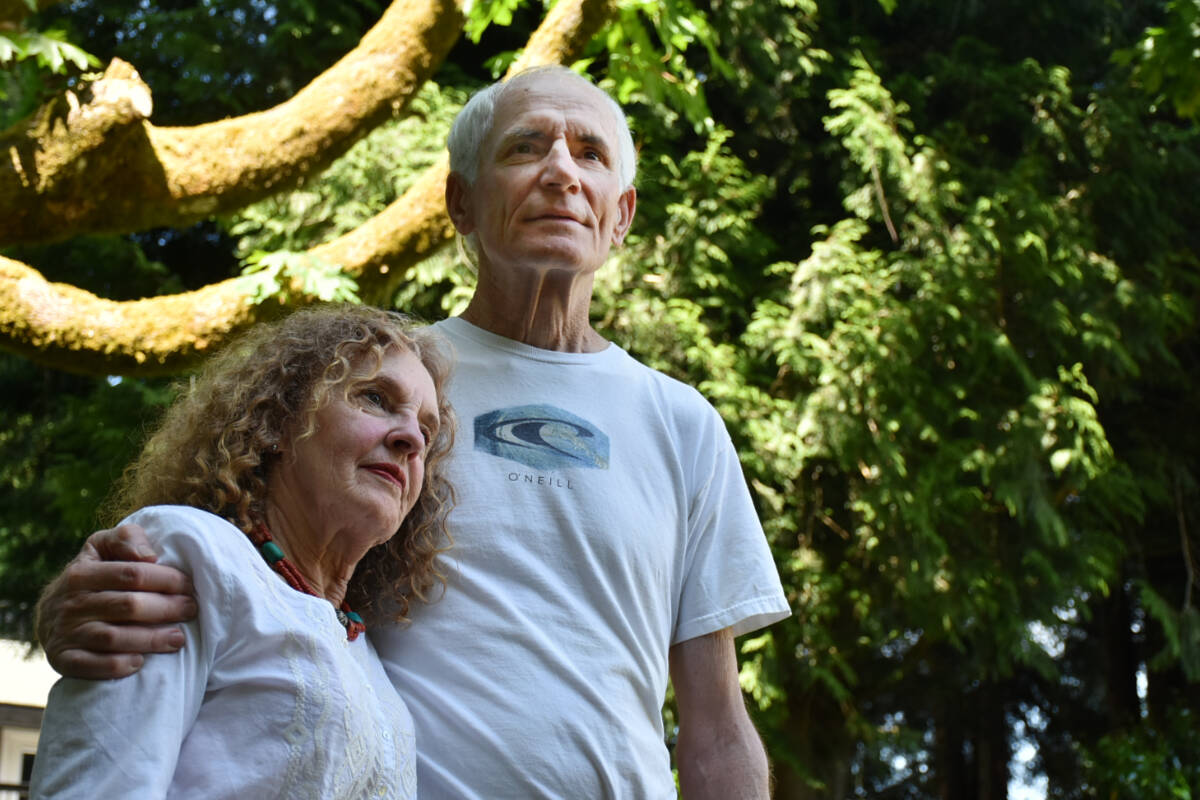 Sather and LeBox are hoping that by speaking publicly about the disorder, they will help erase the stigma of dementia, something they have both felt since Sather's diagnosis.
"Now it will be out there and we don't have to hide anything. We don't have to pretend," said LeBox to her husband.
"And I think that the more people who come out and tell their story, I think the more acceptance there will be," said LeBox.
For more information about the Maple Ridge BC Purple Angel Dementia Support group call 778-868-9470 or go to: facebook.com/profile.php?id=100063636577502.
---
Have a story tip? Email: cflanagan@mapleridgenews.com
Like us on Facebook and follow us on Twitter.